FEAR (emotion) - textile hand puppet - 30 cm
Code:
23621B
Related products
Product detailed description
Textile toy for children from birth. This toy meets the legally prescribed norms and has been certified by a state testing laboratory. Fabric and plush toys of the brand MORAVSKÉ ÚSTŘEDNY BRNO are characterized as a high quality production and a sophisticated design. All the toys are safe and properly tested. The materials used in manufacture are of high quality, safe, and certified for the use of manufacturing toys. The main materials are plush, microplush, wool, and felt. The development and manufacturing of all toys of the brand MÚ happens solely in the Czech Republic.
Our hand puppets are suitable for kids from 0+. and come in a wide range of emotions, each one crafted with care and attention to detail.
Our production line embodies the highest standards of craftsmanship and quality. Each hand puppet is meticulously crafted by skilled artisans, ensuring impeccable attention to detail and a superior finished product. Made with love and care, our hand puppets bring joy to children and adults alike.
Playing with hand puppets provides countless opportunities for imaginative play and storytelling. Children can bring characters to life, creating unique narratives and developing their creativity. The possibilities for interactive play are endless as children explore different voices, movements, and personalities for their puppet friends.
In educational settings, our hand puppets serve as invaluable teaching tools. Educators and caregivers can use them to engage children in interactive lessons, enhance communication skills, and foster social and emotional development. Whether it's a puppet show or a role-playing activity, hand puppets encourage active participation and make learning an enjoyable experience.
Our hand puppets are designed to withstand the rigors of frequent use. Crafted from high-quality materials, they are durable, safe, and built to last. The line features a charming array of puppets representing different emotions, kids have to handle with, those puppets will help you to teach kids to better understand their feelings in various situations.
When you choose our wholesale hand puppets, you're selecting toys that meet the highest European standards of safety and quality. Parents and educators can trust our puppets to provide a safe and engaging playtime experience.
So, whether you're looking to stock your toy shop with premium European toys or seeking teaching aids for early childhood education, our hand puppets are the perfect choice. Discover the joy and benefits of playing with our hand puppets, and let imagination and creativity flourish in nurseries, kindergartens, and beyond.
Please note that those hand puppets can be washed in a washing machine. They can be cleaned by hand, making it easy to keep them looking their best.
We offer competitive pricing and excellent customer service, making us the perfect partner for toy shops for babies and toy shops with high-quality items. If you're looking to add a touch of creativity and fun to your store, our hand puppets are a perfect choice.
Here are some ways to play with our hand puppets:
Create your own puppet show or play with friends and family
Use puppets to act out stories or fairy tales
Teach kids about animals and their habitats using puppets as visual aids
Use puppets to help children express themselves and communicate their feelings
Thank you for considering our hand puppets for your store. We look forward to working with you to bring the joy of hand puppet play to children all over the world.
Additional parameters
Category

:

Teaching aids
Warranty

:

2 years
Weight

:

0.04 kg
Age by Certification

:

CE 3+
Dimensions

:

19 x 28 x 11 cm
Material

:

Textile
Use

:

Toy
Rozměry

:

24 x 30 x 5 cm
Be the first who will post an article to this item!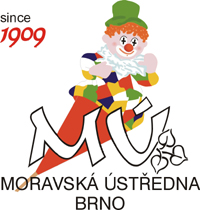 Textile and plush toys from MORAVSKÁ ÚSTŘEDNA BRNO are characterized by very high quality workmanship and sophisticated design. All toys are safe and regularly tested. The materials used in the production are of high quality, health-safe and certified for use in the manufacture of toys. The main materials are plush, micro plush, cotton and felt. The development and production of all MÚ toys is carried out exclusively in the Czech Republic. Great emphasis is placed on the design and layout of these textile and plush toys and the products are therefore created in the hands of expert, in-house designers. The range includes products for schoolchildren, preschoolers and even the youngest children. The collection of MÚ Brno products also includes many licensed motifs. The most famous is the Mole, which is produced in many designs and sizes. There are also Mole's friends, the whole Rumcajs family, the popular Four-Leaf Clover, Hurvínek with Mánička and Spejble, the inseparable pair of Křemílek and Vochomůrka, Rákosníček, Maxipes Fík and Popeye the Sailor. The list of toys on which you can find a tag with the MORAVSKÁ ÚSTŘEDNA BRNO logo does not end there. The company's designers have created a long line of other fairy tale characters, plus rabbits, elephants, teddy bears, dogs and other cuddly creatures.