Puppet box - SNOW WHITE
Code:
22791E
Related products
Product detailed description
Benefits of Playing with Hand Puppets:
Stimulates Imagination: Hand puppets transport children to magical realms and encourage them to create imaginative stories, enhancing their cognitive development.

Promotes Language Skills: By using hand puppets, children can practice verbal communication, storytelling, and expressive language, improving their vocabulary and communication abilities.

Enhances Social Interaction: Hand puppets provide a platform for interactive play, fostering social skills, cooperation, and empathy as children engage in pretend play with their peers or caregivers.

Boosts Creativity: Hand puppets inspire children to invent unique characters, express themselves creatively, and explore different perspectives, nurturing their artistic abilities.

Develops Motor Skills: Manipulating hand puppets requires fine motor control and hand-eye coordination, promoting the development of dexterity and precise movements.

Builds Confidence: Through puppetry, children can step into the role of a character, gaining self-assurance, building self-esteem, and enhancing their public speaking skills.
Why Choose hand puppets in Krokido:
Wide Variety: We offer an extensive range of hand puppets, including enchanting fairy tale characters, adorable animals, and familiar family members, allowing you to cater to diverse preferences and interests.

High-Quality Materials: Our hand puppets are crafted with meticulous attention to detail using premium materials, ensuring durability, longevity, and safe play for children.

Educational Value: Our hand puppets are designed to stimulate imagination, enhance language skills, promote social interaction, and facilitate overall cognitive development, making them ideal for educational settings.
Choose Krokido as your trusted partner for wholesale toys from the Czech Republic and unlock the world of creative play with our captivating hand puppets. Transform the learning experience for children in your shop, kindergarten, nursery, or daycare, and witness the joy and growth that these engaging toys bring. Contact us today to explore our product range and place your wholesale order.
Additional parameters
Category

:

Hand puppets - gift sets
Warranty

:

2 years
Weight

:

0.15 kg
Age by Certification

:

CE 3+
Dimensions

:

34 x 9 x 18,5 cm
Material

:

Textile
Use

:

Toy
Rozměry

:

34 x 9 x 18,5 cm
Be the first who will post an article to this item!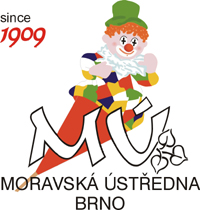 Textile and plush toys from MORAVSKÁ ÚSTŘEDNA BRNO are characterized by very high quality workmanship and sophisticated design. All toys are safe and regularly tested. The materials used in the production are of high quality, health-safe and certified for use in the manufacture of toys. The main materials are plush, micro plush, cotton and felt. The development and production of all MÚ toys is carried out exclusively in the Czech Republic. Great emphasis is placed on the design and layout of these textile and plush toys and the products are therefore created in the hands of expert, in-house designers. The range includes products for schoolchildren, preschoolers and even the youngest children. The collection of MÚ Brno products also includes many licensed motifs. The most famous is the Mole, which is produced in many designs and sizes. There are also Mole's friends, the whole Rumcajs family, the popular Four-Leaf Clover, Hurvínek with Mánička and Spejble, the inseparable pair of Křemílek and Vochomůrka, Rákosníček, Maxipes Fík and Popeye the Sailor. The list of toys on which you can find a tag with the MORAVSKÁ ÚSTŘEDNA BRNO logo does not end there. The company's designers have created a long line of other fairy tale characters, plus rabbits, elephants, teddy bears, dogs and other cuddly creatures.